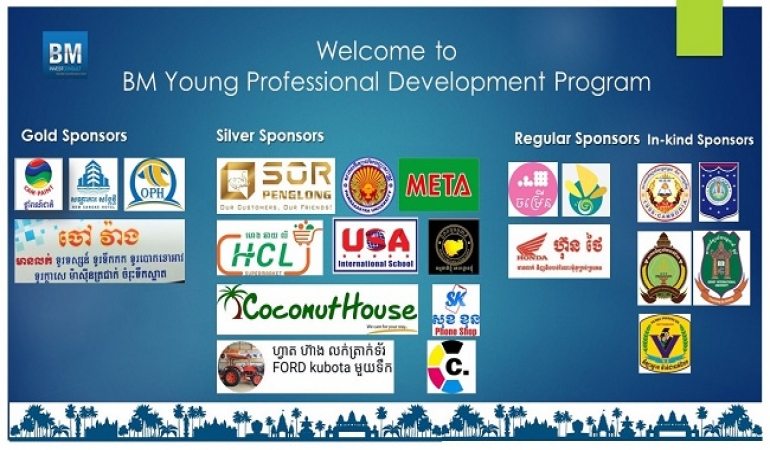 Launching Ceremony on
BM InvestConsult has officially conducted workshop on "Launching on BM Young Professional Development Program" at The Coconut House Hotel in Battambang City. The aim of the workshop is to share about the program updates, next steps and challenges for the program by involving the key stakeholders like sponsors, trainers/speakers and partners to support and improve the program. Significantly, there were sixty participants have actively taken part in this seminar. "This program is the platform to build young professionals and connect them with SMEs to ensure that they are ready to for better employment opportunity and help SMEs grow", Mony Nam said. "It is a unique model to develop the young generations in business academic that fulfill the gaps of university on enhancing practical training approach." He added.
According to the report by Mr. Rotha Choem, a senior manager of BM InvestConsult, 48 potential trainees come from four different universities and other employers have been recruited to join the program with no costs; surprisingly, there have been 33 trainees are females. There are three different professions that the trainees have selected included Accounting 17 (14 females & 3 males), Sales & Customer Services 18 (11 females & 7 males) and Admin/HR 13 (8 females & 5 males). In addition, 17 SMEs have supported and sponsored for this program so that they could send their employees to join it and they have the opportunities to retrieve this pool of skillful human resources for their business operations. Next step is to implement the program curriculum with 5 different sections; such as, workshop (soft skills), training (competency skills), mentor & coach, internship and business forums. The critical challenge is to gain more sponsors to support the program and recruit more social-minded trainers/speakers to support the program. Meanwhile, two trainee representatives, Mr. Phearun and Miss. Chanreaksmey have expressed their feelings of gratitude and being proud of joining with the program. They expressed their strong determinations to achieve their career goals; for instance, obey and follow program's regulations, commit to 6-month program and willing to get involved in any beneficial activity assigned by the program.
More interestingly, 4 different speakers were honorably invited to share about their practical employment and business experiences to the trainees. Miss. Ngeth Sreylinch, business owner of World's Natural Stone Supply and representative for sponsors, advised that the employees need to sharpen both their skills and mindsets prior to get better careers - jobs are more available, but qualified staffs are not. Mr. Kann Chhunly, professional trainer/speaker and representative, recommended that to become successful all trainees to be well-prepared and focus well both mindset and activities. Mr. Chea Heang, general director of USA International School, suggested that all trainees need to do practicum and internship before getting the real jobs. Mr. Soeurn Sobal, provincial manager of ABA Bank in Battambang Branch, said that all trainees have to create and save the personal credit for themselves from now so that they gain trust to get better jobs from other employers.